By uli | 21. February 2013
…………………………………………………………………………………………………
05. 04. / 18.00 uhr / Play & Barbecue

…………………………………………………………………………………………………
08. 04. / 20.15 uhr / Wing it!
…………………………………………………………………………………………………
Topics: Uncategorized | No comments »
By uli | 15. February 2013
criss cross + … left and right  Greifswald market becomes an open stage
1818 Caspar David Friedrich drew the Greifswald marketplace. The watercolor is currently presented in the Pomeranian State Museum. Frederick returns in his image, a time frame of his presence. As then, marketplaces are still a reflection of our society. The marketplace is a social space with people from diverse backgrounds, a place of common ground, both a place of exclusion, the differences, the discussion, confrontation and negotiation. It will be met: crisscross, right and left diagonal and straight out.  In August 2012 we offered a German-Polish Stage Performance Together with the Polish Teatr Brama, we developed a five-day workshop a spectacle. Since the market was not locked as a stage, there was a combination of fiction and reality, drama intervention and observation.
Our goal was to create a cross-generational and cross-understanding. By actively developing a multifaceted theater action project participants and spectators were encouraged to take on social responsibility. The combination of museum and theater revealed new dimensions of the transmission of culture and history.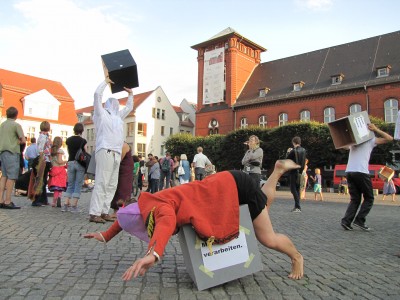 Topics: Uncategorized | No comments »
By uli | 20. February 2011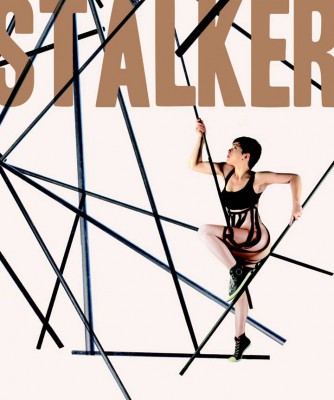 Cooperation: Studententheater Greifswald and Theater Vorpommern
Next performances: March 1/2/3, 8:00 PM at Rubenowsaal (Theater Vorpommern)
The "Stalker" is a highlight of Greifswald— and that not only in an artistic respect. One week prior to the opening night, the Theater Vorpommern decided on another performance after the premiere. Three days prior to the appointed date, the tickets were sold out. Sensational! (Nordkurier, November 20, 2010)
Topics: Education, General stuff, Plays | No comments »
By uli | 21. January 2011
How does a coffeepot make conversation? What does a lemon think about in the kitchen? What does the stroll of a matchbox look like? Where does an egg get the courage to jump into the pan? We will deal with these and more questions as well as the answers. Playfully, we want to discover and understand the materials, learn more about the objects. The workshop will be an introduction into the play and the animation of objects—which is fundamental for the art form of object and puppet theater. We want to find ways to become active on stage, to extend the creative space, and to adapt elements of object theater to classic drama theater. It will be an absurd experiment.
Dozent: Tobias Eisenkrämer studies puppet theater at the drama school "Ernst Busch" in Berlin.
Price: 15 €
Registration: ulrike@stuthe.de or call 017664288368
Topics: Education | No comments »
« Older articles